Accountability and Enforcement
California's housing crisis has reached historic proportions despite the fact that, for decades, the Legislature has passed numerous laws intended to significantly increase the supply of housing affordable to Californians at all income levels.
In 2017, Governor Brown signed several bills that clarify and strengthen existing laws and increase accountability and enforcement in order to better address the housing needs of Californians. Chapter 370, Statutes of 2017 (AB 72) is one of those laws.
Enforcement Authority
AB 72 grants HCD authority to review any action or failure to act by a local government that it determines is inconsistent with an adopted housing element or housing element law. This includes failure to implement program actions included in the housing element. HCD may revoke housing element compliance if the local government's actions do not comply with state law.
In addition, HCD may notify the California Office of the Attorney General that the local jurisdiction is in violation of state law for non-compliance with housing element law, the Housing Accountability Act, "no net loss" law, density bonus law or anti-discrimination law.
View the full text of AB 72 .
HCD Review
HCD enforces state housing laws in a manner that meaningfully and positively impacts the provision of housing in all communities across the state.
HCD may initiate review of an issue based on information contained within a housing element, annual progress report, stakeholder comment letter, phone call, email, news article, or additional source. During its review, HCD may consult with any local government, agency, group, or person.
HCD Actions and Results
HCD evaluates each issue on a case-by-case basis. Generally, the first step involves conversations with the local government to define the circumstances surrounding the issue and gain understanding of the local government's perspective. Based upon information received, HCD may choose to monitor a situation prior to taking additional action.
If the circumstances warrant additional action, HCD may issue a letter of inquiry, a letter containing technical assistance, or a letter requesting corrective action. Local governments are generally provided 30 days to respond before HCD takes further action. However, this timeframe may be adjusted on a case-by-case basis.
Based upon the response received, HCD may issue a letter acknowledging the local government's response or corrective action taken. HCD may also issue notice of decertification of housing element compliance and/or provide notice to the local government that the California Office of the Attorney General has been notified of a violation.
Each issue is unique; therefore, the process is not necessarily linear and may loop back to include multiple instances of correspondence. However, the image below shows HCD's general approach to enforcement under AB 72. Remember: Local governments have the opportunity to respond to HCD each time a letter of inquiry, technical assistance, or correction is issued.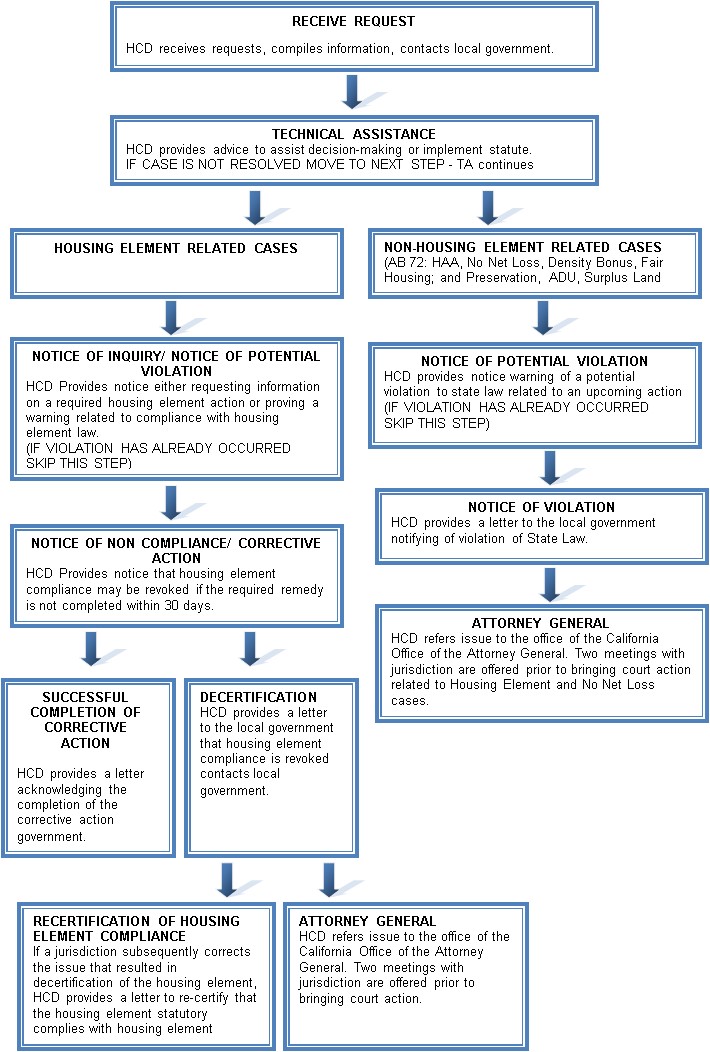 Transparency
HCD makes enforcement letters and actions available to the public. We are currently updating our list of enforcement actions taken. HCD will send out a notification in our Newsletter (sign up here by clicking the box for General Announcements and Information) once we have completed the update. For now, if you would like information about enforcement actions taken in a jurisdiction, please contact compliancereview@hcd.ca.gov.
Submit Potential Violations to HCD for Review
HCD accepts requests for review of potential violations. All comments submitted to HCD are subject to the California Public Records Act.

Send email requests to: ComplianceReview@hcd.ca.gov.

Send U.S. postal mail requests to:

Megan Kirkeby, Deputy Director
Department of Housing and Community Development
Division of Housing Policy Development
2020 W. El Camino Avenue, Suite 500
Sacramento, CA 95833